NEWS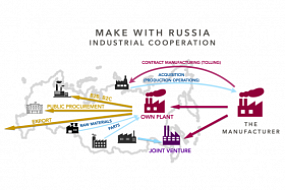 10.02.2017
AIP launches new platform for searching and attracting partners and investors
In 2016 AIP intensified its work on attracting investors with industrial projects. We carried out about 20 events last year on promotion business capacity of our membrs interprises, prepared and published several new analytical editions describing how to organize enterprise in Russia. 
We expended partnership database in such countries as Japan, South Korea, Germany and Italy. Moreover, we succeeded in establishing relations with Russian industrial holding companies and enterprises.
Examination of investors interactions showed that deficit of investment proposals on the directions below is a barrier for implementing investment projects:
- contract manufacturing (implementation of standard technological operations using custom-supplied materials and according to customer technology
-  component supplying and/or other means of manufacturing using customer technological requires
- creating collaborative industrial production enterprises 
We made a decision to make the main focus in 2017 on promotion industrial cooperation and, talking in particular, on partnership in creating production chains and we launch a new communication platform MakeWithRussia.
As the first step, we form database with available spare production capacity for implementation particular technological operations and\or material and component supply.
As the next step, we plan yet during 2017 to promote in investment communities consolidated proposals along with industrial parks, advanced special economic zones and service companies – AIP members.
In order to participate in the project, please do not hesitate to fill in the form and send it to Dmitry Shokhonov dsh@indparks.ru