NEWS
25.04.2017
AIP and AHK proceed with collaborative preparation for InRussia 2017
AIP and AHK proceed with collaborative preparation for InRussia 2017
AIP and AHK proceed with collaborative preparation for InRussia 2017!
International business conference InRussia will take place in Moscow November 23, 2017. An agreement on its collaborative preparation has been signed today between the Chairman of the Board of the Russian – German Chamber of Commerce Mattias Shepp and the CEO of the Association of industrial parks Denis Zhuravsky.
The conference is designed to establish effective contacts between Russian and international business communities aimed at realization of investment projects in Russia.
The key topic of the event once more is production localization and industrial cooperation. Special attention will be given to alternative formats of localization such as contract manufacturing (fulfilment of standard technological operations with goods made on commission and custom-developed technologies). One of the main themes will be export potential for Russian manufacturing. In this regard, the focus will be made on the Russian Far East and its increasing role in the Russian economy.
A special session is planned to be devoted to the subject matter of component or/and other means of production supplying under custom-developed technologies and the issues of quality of local components. German and other supplier from are expected to present their solutions in the format of small exhibition.
Organizational performance formats within the conference:
- business program (three successive planary sessions),
- exhibition area of perveyors (building up is not included),
- B2B networking (interactive system of contacts for registered participants through the website: www.inrussia.pro )
- concierge-service for meeting and negotiation organization and a special time slot
- evening-cocktails for the participants.
Partners, information partners, and sponsors are invited to participate in the conference. Sponsorship packages are already confirmed by the organizers and are available on the conference website and can be provided by the organizing committee upon request.
Let us remind, the first InRussia conference took place in October, 2016 at the AIP initiative and was supported by the most of international business-associations, including AHK.
In 2016 there were more than 350 participants from 50 Russian regions and 18 countries, including Japan, Belgium, Rumania, Italy, Turkey, France, Germany, Singapore, Slovenia and other countries.
On behalf of international business heads and members of the major business associations were presented at the conference: the Association of European Businesses (AEB), Russian-German Chamber of Commerce (AHK), Japan Association for Trade with Russia and NIS ROTOBO, American Chamber of Commerce in Russia AmCham, Association of Italian industrialists Confindustria Russia, Belgian-Luxemburg Chamber of Commerce and others.
Such production holding companies as Schlumberger, Schneider Electric, Alstom, Renault, REHAU and others actively participated at the conference.
From the Russian side: Deputy Minister of Industry and Trade of the Russian Federation Georgiy Kalamanov Director of the Department for Investment Policy and Development of Private/Public Partnership of the Russian Ministry of Economic development Igor Koval, management of Industrial Development Fund, Agency of Technological Development, All-Russia Business Association "Delovaya Rossiya", Heads of regional development corporations, management of industrial parks, and also service and industrial companies such as Monocrystall, DoorHan, Interskol and others.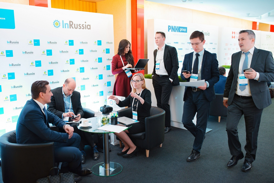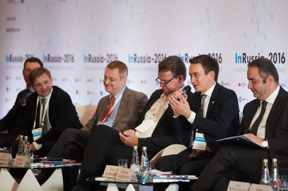 Association of industrial parks (AIP) during the event presented very new and unique materials, which were published specially for the conference participants:
· an investment guide on localization of production in Russia (an updated edition in English),
· a review of the best practices of industrial construction in Russia and a branch review «Localization opportunities in Russia" – a new English-language edition based on the annual survey «Industrial parks of Russia 2016».
Several collaborative agreements were signed, hundreds of meetings and negotiations on the further partnership took place.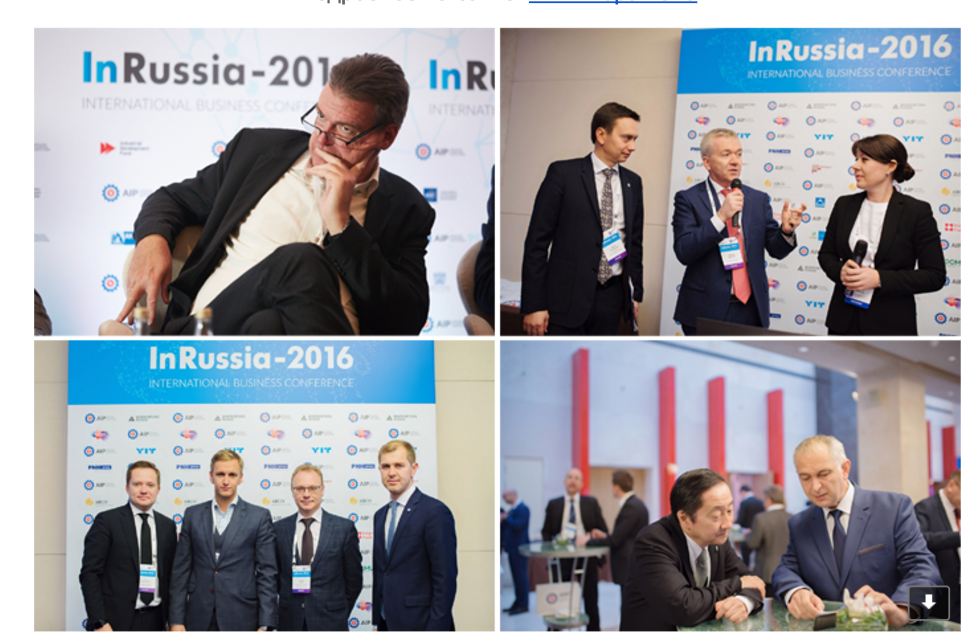 AIP and AHK members are offered 50% discount.
Delegate package presupposes:
· participation in all events within business program
· a set of hand-outs for participants
· participation in evening cocktail
For more information contact the conference organizing committee:
Hotline phone number: +7 495 789 48 21
E-mail: inrussia@indparks.ru
- general issues: Julia ILYINA, tel.+7 903 554 48 49:, ji@indparks.ru
- partnership issues: Yana LELES, tel.: + 39 388 499 7236 +7 925 083 93 80, ly@indparks.ru
- issues of participation in the business-program: Maxim PAZDNIKOV, tel.: +7 926 101 86 54 pm@indparks.ru
Official website: www.inrussia.pro