NEWS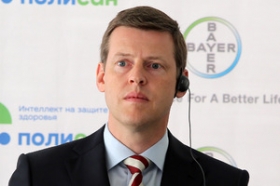 16.08.2017
Head of Bayer highlights the issue of localization on the panel session «MAKE WITH RUSSIA»
Niels Hessmann, General Representative, Russia and CIS, Bayer, confirmed his participation as a speaker at the panel session «MAKE WITH RUSSIA». Discussion is devoted to experience of localization of industrial production in Russia.
The first plant outside Germany Bayer opened in Russia in 1876 and then went on expanding manufacturing until the First World War. Return to the market occurred in 1978 with strengthening position at chemical and plant protection sectors.
In 2010, united sub-concerns HealthCare, CropScience and MaterialScience, Bayer opened a plant on production of polyurethane systems in Noginsk (Moscow region). Total investment is 27$ mln. The new plant produces modern polyurethane materials that are used in construction, production of industrial and domestic refrigeration appliances, thermal insulation, car, footwear and furniture industry.
In 2015 jointly with Ural company «Medsintez» Bayer launched production of antibiotic Avelox. The drug is produced with a complete production cycle. In that year another agreement on production of three radio-opaque chemicals with «Polysan» (St. Petersburg) was signed. Localization of radioactive materials is considered to be complicated, because it requires special configuration of laboratories and storage conditions. Thus, initial investments in production of only one drug can reach more than 500 mln. RUR. In 2016 partnership agreement was completed with production of cardiology medications. The production output will meet the requirements of the Russian market.
In 2016 Bayer bought the shares of the largest producer of seeds and agriculture products Monsanto. Transaction amount in $66 billion is record for German business. As the result, the World largest producer of herbicides and genetically modified seeds.
Registration is being in process on the conference website: www.inrussia.pro
For the members of Association of industrial parks and the Russian-German Chamber of Commerce 50% discount is provided. In case of registration before 15 September 2017 participant will get additional 10% discount.