NEWS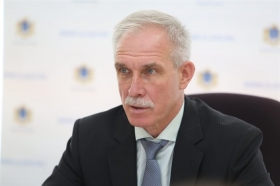 17.08.2017
Sergey Morozov, Governor of Ulyanovsk region, confirmed participation in InRussia 2017
Sergey Morozov as a region leader successfully develops cooperation with international business. Ulyanovsk region was one of the first to create industrial parks. Today, the region has an advanced system of support to investors and demonstrates record results on location on their territory production companies of international corporations.
This year several new plants were opened on the territory of Ulyanovsk region including Japanese tyre factory Bridgestone with the total cost of 12,5 billion RUR.
Only in industrial park Zavolzhye 27 investment projects with total cost of 47 billion RUR are being implemented. 39,5 billion RUR are already invested.
Enterprises of DMG MORI, Schaeffler and Jokey Plastik, Legrand and FM Logistic, Nemak, Hempel, EFES, TAKATA, MARS are already put into operation, including nanotech centre – unique innovative project that supports technological entrepreneurship. Owing to created enterprises more than 3,000 workplaces were created.
In July, 2017 establishing of centre of aircraft customization was announced. Dozens of manufacturing companies will be located on the territory of industrial complex and maintain all sort of work starting from upholstery and interior details to jet painting. Production of foreign parts to Sukhoi Superjet 100 and MC-21 interior will also be placed on the same ground.
Ulyanovsk region is becoming a very important market for many industrial companies, service providers and suppliers in terms of integration to production chains, including suppliyng of components and organizing of contract manufacturing.
So, industrial cooperation is the main subject of international business conference InRussia-2017 that will take place in Lotte Hotel Moscow. Business program is already formed and published on the conference official website: www.inrussia.pro
Within the three panel sessions - «Make with Russia», «Supply In Russia» and «Export from Russia» - top managers of leading international companies operating in Russia, and Russian businessmen will discuss a wide range of issues about trade, production and creating new products in Russia. Businesses will be able to ask critical questions directly to federal ministries of the economic block of the Government, and to offer their ideas to form the business environment, stimulating the development of existing and new businesses.
Registration is being in process on the conference website: www.inrussia.pro
For the members of Association of industrial parks and the Russian-German Chamber of Commerce 50% discount is provided. In case of registration before 15 September 2017 participant will get additional 10% discount.