NEWS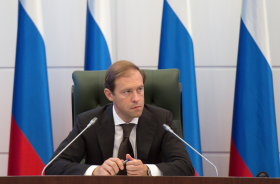 28.08.2017
Denis Manturov signed official request to participants of InRussia conference, supported by the Ministry of industry and trade of Russia
Minister of industry and trade of the Russian Federation Denis Manturov addressed to InRussia participants welcoming requests. Message from the Minister contains information about importance of strengthening of international cooperation as an inevitable part of industrial policy in Russia.
The Ministry supports the idea of the conference aimed at contribution to searching either Russian or international partners for creating industrial cooperation and global supply chains. According to the Minister, InRussia is designed to be a platform for strengthening partnership relations with investors from the leading global economies – Germany, Italy, Japan and Korea, that already implement investment projects in Russia or intend to localize production.
We also remind that the conference will take place in Lotte Hotel Moscow on 23rd of October 2017.
Registration and all relevant information is on the website: www.inrussia.pro
In case of registration and payment before 15th of September 2017, participant gets 10% discount.