NEWS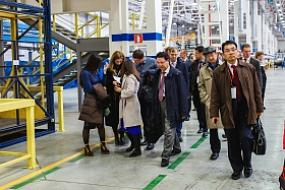 13.10.2017
Delegation of Tyumen region invites partners
Delegation of Tyumen region will participate in InRussia – 2017. During the event, they will continue communication with international companies. Nowadays there are 490 projects on the territory of Tyumen region with the total amount of investments of $1,6 trillion.
Earlier, before InRussia – 2017, Tyumen region received delegation of international business, organized by the Association of industrial parks by request of Infrastructure development agency of the Tyumen region.
On 2-3 October delegation of international business visited Tyumen region within business-mission organized by the Agency of infrastructure development of Tyumen region and the Association of industrial parks of Russia and supported by Russian – German Chamber of Commerce, American Chamber of Commerce in Russia and Japan Association for Trade with Russia and NIS (ROTOBO).
Within the event on the 2nd of October investment workshop took place and the participants discussed opportunities of doing business in Russia. Their experience of project implementation in Russia shared heads of DynaEnergetics and Schattdecor. After that delegation visited industrial parks Bogandinskiy and Borovskiy and «Baker Hughes» factory. During the second day delegation visited industrial grounds of SIBUR holding company in Tobolsk.
The delegation consisted of representatives of service companies from Russia, Germany, USA, Japan, Italy, France, Belgium and Luxembourg. Among participants there were Japanese corporation Sumitomo and industrial companies Robert Bosch GmbH, Siemens, Astron and others. More than 30 participants in total.