NEWS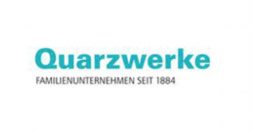 07.11.2017
Quartzwerke Group of Companies is a partner of InRussia - 2017
Quartzwerke Group of Companies still was represented in Russia by three operating enterprises in Ryazan region, Samara region and Ulyanovsk region. In December 2017 already the 4th plant in Vladimir region will be put into operation.
Preserving traditions of the European group of companies, Quartzwerke is striving for achieving high values such as reliable and long-term partnership for customers with a focus on their demands and, moreover, ecological consideration.
Quartzwerke offers his clients premium qualility of products and a high level of service.
Own scintific laboratory (Frechen, Germany) accumulates and analyses information about minerals from every enterprise of the group of companies that allow constantly improve the technology of mining and refining depending on climate conditions and main characteristics of deposits.
All the enterprises of Quartzwerke Group of Companies in Russia posses spacious warehouses for dry sand with automatic node for loading and allow deliver row materials without inerraption that is guarantee for credibility and singles is the company in the sector.