NEWS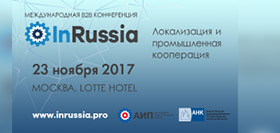 14.11.2017
7 days left till the end of the registration! Hurry up and register for InRussia – 2017!
On the 20th of November the registration for InRussia-2017 is closed. Everyone interested still can proceed the registration on the official website of the conference: http://inrussia.pro/register/
More than 400 representatives of Russian and foreign industrial companies, federal and regional authorities, industrial parks and advanced special economic zones have already confirmed participation.
One business platform has united interests and initiatives of key business associations, manufacturing, consulting and project companies, development institutions and infrastructure projects.
Among confirmed speakers of the conference:
Andrei Nikitin, The Governor of Novgorod region, Alexey Repik (President of the Association «Delovaya Rossiya» Chairman at CJSC R-Pharm), Niels Hessmann (General Director of Bayer AG) and other notable figures of Russian and international businesses, leading experts in the field of industrial cooperation and localization of production.
The organizers prepared a series of unique editions, that will be officially presented during the
event. Among them: Investors guide on localization of production facilities in Russia (in Russian, English and German), Sector Overview Industrial parks of Russia (in Russian and English), Special issue for international companies "Your business in Russia", created together with the leading expert companies and development institutions, Special editions from Russian-German Chamber of Commerce, Association of industrial parks of Russia and other partners of the conference.
See you on the 23th of November!