NEWS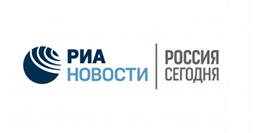 15.11.2017
RIA Novosti is a general mediapartner of the conference
RIA Novosti is a leader by quotations among Russian mass-media, social networks and blogosphere.
Media Group Rossiya Segodnya produces information products, directed to international audience, business communities, government structures and the widest range of users and includes radio broadcasts, websites and newsfeeds in Russian, English, Arabic, Spanish and Chinese languages.
Specially for InRussia 2017 participants Media Group Rossiya Segodnya offers trial access to a professional newsfeed in Russian and, moreover, an opportunity to subscribe to sectoral analytical bulletins RIA Ratings.
This special offer includes:
• RIA Novosti. Economy: all the news regarding macroeconomics, financial market and business in Russia and abroad. Exclusive materials, analytics and forecast from the leading experts from all the branches of economy. More than 250 news per day.
• Quarterly and annual sectoral analytical bulletins RIA Rating – all about mechanical engineering, electricity, metallurgy, oil and gas sector and chemistry.
Subscribtion to newsfeeds for two weeks provides you not only with 24-hours access to information products, but also with the access to news archives for the last 10 years.
In order to get access to this special offer and learn more about other news feeds and products, please do not hesitate to contact Rossiya Segodnya trough the email: sales@rian.ru
As the subject of the letter please write promo-code "InRussia_2017"
tel. +7 (495) 645 65 02
Subscription issues:
Tatiana Volkova
More information about Rossiya Segodnya at: