NEWS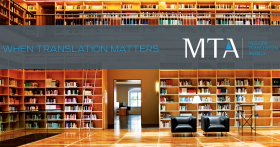 16.11.2017
Moscow Translation Agency (MTA) is an official translator of InRussia-2017
MTA is a frequent guest on large International projects, one of the leading agencies providing translation services in Russia. Specialists from Moscow Translation Agency – graduates from leading Russian universities – deliver services of translation and interpretation during major international events already over 10 years. Today the Agency takes the leading positions in the ten of the best translator agencies in Russia, according to Common Sense Advisory (CSA Research), an independent market research firm.
Conference «InRussia» is an unique business platform addressed to issues of intensive development of foreign business, localization of production and innovation development in Russia.
Industry development fund, Development corporation of small and medium-sized business, national business-clubs: American Chamber of Commerce in Russia, Japan Association for Trade with Russia and NIS (ROTOBO) and Japanese business-club, French-Russian Chamber of Commerce and Industry (CCI France Russie) and Belgian-Luxembourg Chamber of Commerce (CCBLR), Confindustria Russia and Korea International Trade Association. The conference is traditionally supported by the Ministry of Industry and Trade of the Russian Federation are the partners of the conference.
Moscow Translation Agency (MTA) will take over issues of communication of foreign guests of the Conference, including interpretation services during the conference.