NEWS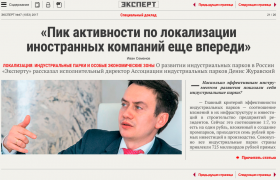 20.11.2017
Famous Russian magazine Expert prepared special material on localization for InRussia – 2017
In the run-up to InRussia conference which takes place on 23 of November 2017 Expert magazine released a special issue with an input "Localization: industrial parks and special economic zones".
Printed version is already on sale and will be available for conference participant (in Russian only).
Over 400 people have already proceed registration on the official website of the conference. Full list of the participants is available on the official website www.inrussia.pro
A half of registered participants are the most active international companies from Japan, Korea, Germany, Italy and other countries.
There will be the majority of industrial parks of the country and advanced special economic zones aimed at cooperation with international business.
There is a special timeslot for signing an agreement between the Association of industrial parks and Special Economic Zones, JBS.
Localization, Russian suppliers and expert are key topics of the conference.
One of the objective of the conference is to intergrade Russian suppliers into global supply chains.
In this regard, the Federal Union of production resources and procurement of Germany, Eastern committee of German Economy and the Russian-German Chamber of Commerce will announce about establishing a platform for involving Russian suppliers in a procurement chain for German industrial companies.
As a practical step, industrial company WIKA Alexander Wiegand SE&Co.KG will sign an agreement with RSMB Corporation on attracting Russian suppliers for industrial projects in Russia.
The conference will take place on 23 of November in Lotte Hotel Moscow.
Pre-registration is required and available through the website: http://www.inrussia.pro/
See more information: http://expert.ru/dossier/story/ndustrialnyie-parki/?n=171