NEWS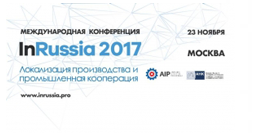 22.11.2017
The final program of the conference is already published and registration is closed
We have received over 500 applications; registration is closed and now we do not receive new applications.
Profiles of all confirmed participants and speakers are accessible on the website and registered participants have an opportunity to contact each other and schedule meetings in advanced through their personal accounts.
Also, today is the last day to apply for excursion to industrial park PNK Group PNK Park Valishchevo, where an ad "Extreme excursion by PNK" was filming with starring Samy Naceri. All the participants will tell about specific features of industrial projects, built by PNK Group, and ask their questions. Also, visiting of production is also planned.
In order to be enrolled at the excursion, sent your name, company name, position, mobile phone number and email to m.pugovkina@pnkgroup.ru
In an exhibition area, the participants will have an opportunity to hold meetings, acknowledge more detailed information about collaboration opportunities and special offers from InRussia partners.
Organizing Committee will answer all your questions:
+7 495 789 48 21
See you tomorrow in Lotte Hotel Moscow!
(Novinskiy Blvd., 8 bld.2)
Registration opens at 9:00
See you tomorrow!