NEWS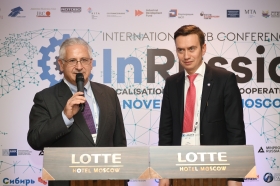 27.11.2017
AIP will represent interests of its members in American Chamber AmCham
Corresponding agreement was signed between the Association of industrial parks and American Chamber of Commerce in Russia (AmCham) at InRussia business conference 23th of November, 2017 in Moscow.
AmCham unites over 500 company-members and represents business community of the USA in Russia in order to develop trade and economic affairs and to implement joint investment projects.
Main objectives of the collaboration are pointed in the agreement:
- Assistance in industrial cooperation between American and Russian industrial enterprises, representatives of small and medium businesses
- Assistance in development contacts between Russian and American business
- Promotion of investment potential of Russian regions and opportunities of production localization and industrial cooperation in American investment community
One of the AIP objectives is to attract attention of American companies to services that can be provided by AIP members: industrial parks, special economic zones, regional development corporations, consulting and other service-providers.
The next step of development of collaboration between AIP and AmCham is joint business-breakfast scheduled on January, 2018. During the meeting managing boards of both associations and their the most active participants will define and confirm joint plan for the year.
In fact, calendar of events in Russia and the USA will assist to the interests of both organizations in searching for partners and promotion of their offers.
The agreement is a further step in development of AIP partnership network in international business communities. AIP cooperates with business communities of Japan, Korea, Germany, Italy, Belgium and Luxembourg. See more information about AIP partners