NEWS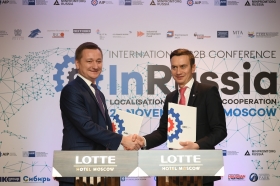 27.11.2017
AIP and VEB Capital united efforts for creating industrial parks on the assets of Vnesheconombank
Investment company of Vnesheconombank VEB Capital and the Association of industrial parks signed a collaborative agreement on creating industrial parks on the assets of VEB Capital. Pilot project is industrial park Southern Ural in Orsk (Orenburg region).
Within the agreement AIP and VEB Capital plan to collaborate on the further directions:
1) Development of a special product "industrial park of VEB Capital", including special services and measures, special financial tools, programs and products for industrial parks and residents
2) Development and collaborative promotion of support measures for industrial parks, and investment projects implemented there
3) Development of unique offers for investors for usage of VEB Capital industrial assets
4) Assistance in attracting Russian and international partners in order to implement investment projects, creating industrial parks, increasing of their effectiveness, creating new working places and attracting of investments.
Agreement was signed at InRussia international business conference, that took place 23th of November in Moscow. The conference is held annually in order to create dialogue between international business and potential Russian partners and is a point of entering Russian the market for international companies and their further localization, including localization in industrial parks.
The organizers of the conference in 2017 are the Association of industrial parks and Russian – German Chamber of Commerce (AHK Russland) and among key partners of the event there are leading international business associations.
Denis Zhuravskiy, Association of industrial parks, CEO: collaboration gains rather operatoinal meaning, as concrete aims and goals, that we are going to achieve together, are defined there. Forms of collaborative work are also written in the agreement, including creating project offices for development of assets. What is also important that the agreement has a deadline till that we are going to realize forethoughts and achieve results. Three years. We have already had successful experience of working under agreements with deadlines and defined goals and up to now we succeeded in hitting the plan. We are sure that this time we will also succeed.