NEWS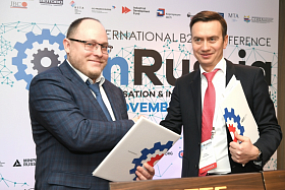 27.11.2017
AIP and JBS «Special Economic Zones» announced joint plans for attracting investors
Association of industrial parks will continue to work with JBS «Special Economic Zones» according to collaborative agreement, that was signed at international business conference InRussia – 2017 in Moscow.
In the opinion of Denis Zhuravskiy, Association of industrial parks, CEO: offer to investor is fully, when we in a coordinative way offer all the variants of placing a production: industrial parks, special economic zones, and associated services. Uniting efforts we save investors' time and make process of site-selection more objective and our offer more attractive.
Agreement includes collaborative promotion of products and proposals for placing a production in investment communities of Russia and around the World.
JBS «Special Economic Zones» and AIP plan mutual participation in investment events of both sides and implementing joint activities.
Managing companies of industrial and production, port and technical innovation special economic zones in Russia will have an opportunity to take part in this work and get support of the Association of industrial parks, based on membership. To date many SEZ have already formalized membership in AIP: Alabuga, Titanium valley, Kaluga and Dubna.