NEWS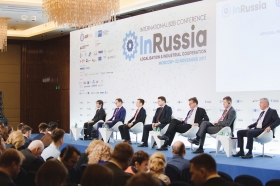 28.11.2017
InRussia conference defined new directions to localization and industrial cooperation
InRussia 2017, that gathered on its ground over 400 participants from more than 35 Russian regions as well as Germany, Italy, Japan, Korea, Poland, Spain, the USA and Switzerland, was designed to discuss localization of technologies, knowledge and competence, beyond localization of production, and gained rather operational meaning: a number of initiatives of cooperation between foreign and Russian manufacturers were announced.
Criteria and details of localization were discussed during the plenary session, where Deputy Minister of Industry and Trade of the Russian Federation Vasiliy Osmakov told about additions to Government Decree on principles of assignment the products to domestic and on support for local production. The government focuses not only on the amount of investments or even not only on a number of working places, but on transfer of technologies, knowledge and competence. The deeper is the limit, the more preferences are gained. Important factors of Made in Russia is not only a fact of a built factory and existence of local R&D there, but a share of expert, rate of utilization of local components, amount of key technological operations moved to Russia.
Heads of Mitsubishi Heavy Industries, Bayer, Wilo showed by their examples a readiness of international business to play in accordance to the new rules of localization 4:0. Chairman of the Board, Russian-German Chamber of Commerce Matthias Schepp, co-organizer of InRussia, gave an example of Volkswagen, that in 2018 plans to double export of Russian products. According to forecast of Mr. Schepp, German economy will preserve leadership in transfer of technologies, development of local industrial competence in Russia and direct investments in Russian production for the next several years.
During the conference not only implemented investments were discussed, but also further ones. Their intentions to work in cooperation with foreign technology companies and increase production told Russian companies as well. So, Chairman of the Board of Directors, General Director of ALTAIR LLC, built large enterprise in advanced special economic zone in Lipetsk, announced plans on establishing production in the Russian Far East and about the plans for export.
After plenary session, the conference continued in extraordinary format for Russia in open space, where along with B2B sessions and negotiations, presentations, signing of agreements and other events took place.
As a first practical step Wika Mera company (production of measuring equipment for industrial purposes) signed an agreement with RSMB Corporation on attracting Russian suppliers to industrial projects in Russia.
A series of international corporations announced their procurement plans for 2018 within procurement fair. Only McDonalds Russia claimed purchasing products of Russian suppliers for over ₽10 billion. International machine-building concern GEA Group AG, Japanese corporation SMC Pneumatic and companies from Japan, Germany, USA and other companies were among purchases.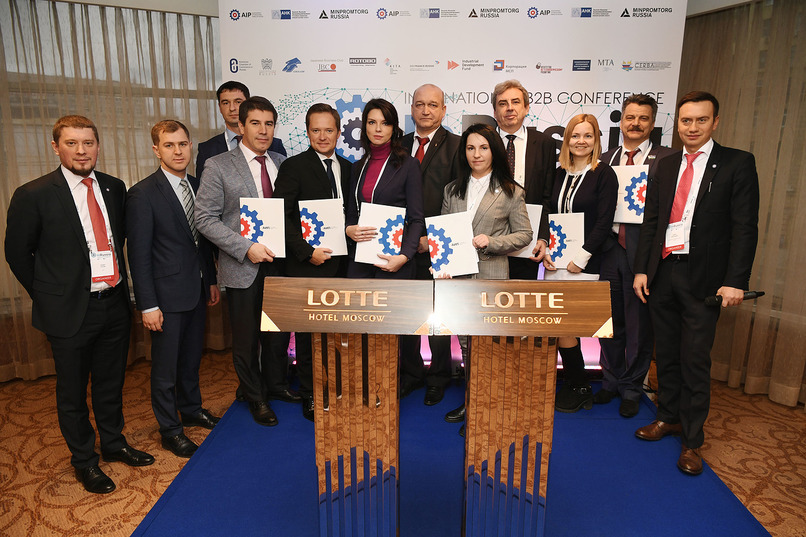 Initiatives and agreements, announced during the conference, are basically directed to including Russian suppliers in global supply chains, that means shift to product export to foreign markets. As it was recently announced, Daimler AG, now building a plant in Moscow region, claimed creating local chain of Russian suppliers with an opportunity of component export from Russia to other Mercedes – Benz plants arounв the World.
InRussia conference showed that localization today is more complex that just placing a production. Following market demands and Government expectations the Association of industrial parks declared its development. Denis Zhuravski, the Association of industrial parks, CEO, said: In the interests of industrial parks, that initially stood at the establishing of the organization, we significantly widen our activities in compliance with expectations of investors and, in fact, become association of localization, a ground for solution of all the issues of localization, starting with site-selection and services, up to technological partnership and supplying.
Vasiliy Osmakov, Deputy Minister of Industry and Trade of the Russian Federation, pointed that this direction of AIP development is welcomed and he expects AIP participation in development of regulation of localization.
During B2B sessions solemn signing of agreements and awarding of AIP members certificates took place. Industrial park M7 (Tatarstan) and international law firm Noerr were admitted to AIP members. In cooperation with Noerr a Guide for connection to engineering networks is planned to be issued.
The Association of industrial parks signed an official collaboration agreement with JBS "Special Economic Zones". Managing companies of industrial and production, port and technical innovation special economic zones in Russia will have an opportunity to take part in this work and get support of the Association of industrial parks, based on membership. To date many SEZ have already formalized membership in AIP: Alabuga, Titanium valley, Kaluga and Dubna.
Investment company of Vnesheconombank VEB Capital and the Association of industrial parks signed collaboration agreement on establishing industrial parks on asset-based of VEB Capital. Pilot project is industrial park Southern Ural in Orsk (Orenburg region).
Moreover, AIP signed agreement with American Chamber of Commerce in Russia (AmCham) within that AIP will represent interests of its members in USA investment communities. Today the Chamber and AIP are working out a plan of joint actions that will be approved on breakfast meeting on the 25th of January, 2018. Joint plan probably will include introductory tours to Russian regions, investment workshop in the USA and a series of other actions aimed at attracting investors to Russia.
Numerous meetings and negotiations on further potential partnership and implementing joint projects took place on the conference. AIP received series of requires to assistance in localization. For example, require from Karcher Company to site-selection for industrial enterprise in Russia, requires from large logistics operators on searching industrial parks for placing logistics and customs services.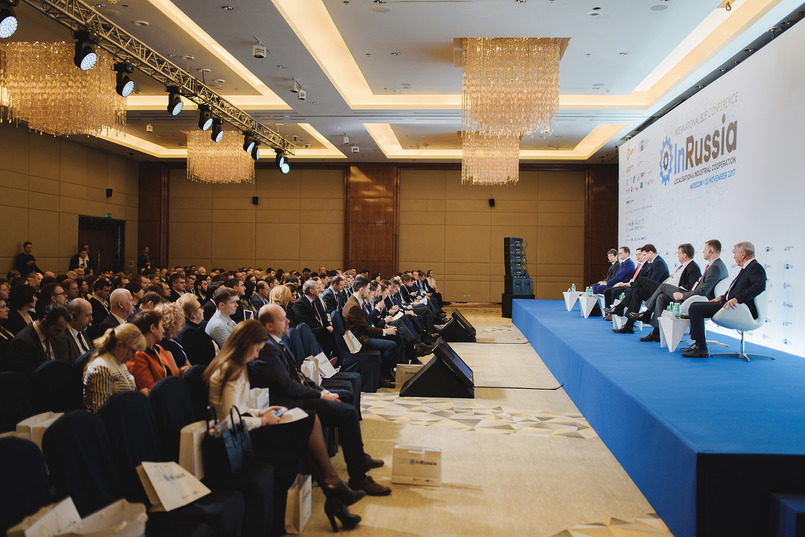 The conference is held annually in the aim of achieving dialogue between international business and Russian potential partners and is a point of entering Russian the market for international companies and their further localization, including localization in industrial parks.
The organizers of the conference in 2017 are the Association of industrial parks and Russian – German Chamber of Commerce (AHK Russland) and among key partners of the event there are leading international business associations: American Chamber of Commerce in Russia (AmCham), Korean International Trade Association (KITA), Japan Trade Association for Trade with Russia and NIS (ROTOBO), Confindustria Italia, CCI France, The Canada Eurasia Russia Business Association (CERBA) and The Belgian-Luxembourg Chamber of Commerce in Russia (CCBLR).
Next year InRussia conference is scheduled to be held on the 25th of October, 2018 and preliminary is devoted to the development of agro-industrial complex of agricultural products processing.